Different Kinds Of BlueGene Biotech ELISA Kits
Why Choose BlueGene Biotech ELISA Kits?

Simple operation (1.5-hour solid-phase ELISA): This is a very simple and easy procedure. In addition, our kits do not need to put the plate on an orbital microplate shaker during the 2 incubation steps.

Prediluted standards (ready-to-use standards): The concentration of the standards is critical for an accurate standard curve. Therefore this kit contains serial dilutions of the standards rather than a concentrated standard solution, thereby avoiding pipetting or calculation errors. Quality tests assure that the concentration of the standards is accurate, thereby ensuring a reliable standard curve.

Reliability: Simple incubation and washing steps enable the Elisa experiment performed within 1.5 hours. Compared to the traditional Elisa method, fewer handling steps reduce errors and deliver more consistent results. Thorough and regular tests of the system guarantee a great intra and inter-assay reliability and ensure a low coefficient of variation.

The types of sample (both of the two types of samples can be tested using one kit)

Sample I: serum or plasma

Sample II: cell culture supernatants, body fluid, and tissue homogenate
How To Use ELISA Kits?
BlueGene Biotech: One-Step Competitive ELISA kit

1) Add 100 ul Standards or Samples to the well. Add 100 ul PBS (pH 7.0-7.2) in the blank control well.

2) Dispense 10 ul Balance Solution into 100 ul samples, mix well. (NOTE: This step should be skipped for serum or plasma samples )

3) Add 50 ul Conjugate to each well (NOT blank control well). Cover and incubate the plate for 1 hour at 37℃.

4) Wash the microtiter plate.

BlueGene Biotech: One-Step Sandwich ELISA

1) Add 50 ul Standards or Samples to the well. Add 50 uL PBS (pH 7.0-7.2) in the blank control well.

2) Dispense 5 uL Balance Solution into 50 uL samples only, mix well. (NOTE: This step should be skipped for serum or plasma samples )

3) Add 100 uL Conjugate to each well (NOT blank control well). Mix well. Cover and incubate the plate for 1 hour at 37℃.

4) Wash the microtiter plate.

Cgbio® ELISA kits-Reaearch Reagent: two-Step Sandwich ELISA

1) Place all kits' components at room temperature for 30mins before using.

2) Prepare Wash Solution

3) Prepare standards, then add 100ul diluted standards or samples to appropriate wells.

4) Prepare Detection Antibody, then add 50ul to each wells, cover the plate and incubate for 120 mins at room temperature.

5) Washing Step

6) Prepare HRP-Streptavidin, then add 100ul to each well, cover the plate and incubate for 45 mins at room temperature.

Cgbio® ELISA kits-Reaearch Reagent: three-Step Sandwich ELISA

1) Place all kits' components at room temperature for 30mins before using.

2) Prepare Wash Solution (1x)

3) Prepare Standards,then add 100ul of diluted standards or samples to appropriate wells.

4) Cover the plate and incubate for 120 mins at room temperature.

5) Washing Step

6) Prepare Detection Antibody, then add 100ul to each wells, cover the plate and incubate for 60 mins at room temperature.

7) Washing Step

8) Prepare HRP-Streptavidin, then add 100ul to each well, cover the plate and incubate for 45 mins at room temperature.

9) Washing Step

10) Add 100ul TMB substrate to each well. Incubate at room temperature for 10 to 15 mins.




Cgbio® ELISA kits-Drug Residue Test kit: three-Step Sandwich ELISA

1) Place all kits' components at room temperature for 30mins before using.

2) Prepare Wash Solution (1x)

3) Add 100ul of diluted standards or samples to appropriate wells.

4) Cover the plate with a sealer, and incubate for 90 mins at 37℃.

5) Washing Step

6) Prepare Detection Antibody, then add 100ul to each wells, cover the plate and incubate for 60 mins at room temperature.

7) Washing Step

8) Prepare HRP-Streptavidin, then add 100ul to each well, cover the plate and incubate for 45 mins at room temperature.

9) Washing Step

10) Add 100ul TMB substrate to each well. Incubate at room temperature for 10 to 15 mins.

11) Add 50ul Stop Solution to each well to stop the reaction.

12) Run the microplate reader and conduct measurement at 450nm.

13) Data analysis: Four parameter curve fitting is recommended.




Cgbio® ELISA kits-Drug Residue Test kit: two-Step Sandwich ELISA

1) Place all kits' components at room temperature for 30mins before using.

2) Prepare Wash Solution (1x)

3) Add 100ul of diluted standards or samples to appropriate wells.

4) Cover the plate with a sealer, and incubate for 90 mins at 37℃.

5) Washing Step

6) Dilute HRP-conjugated antibody to reach its working concentration (1x). Then add 100ul to each wells, cover the plate with a sealer, and incubate for 90 mins at 37℃.

7) Washing Step
Using Our BlueGene Biotech ELISA Kits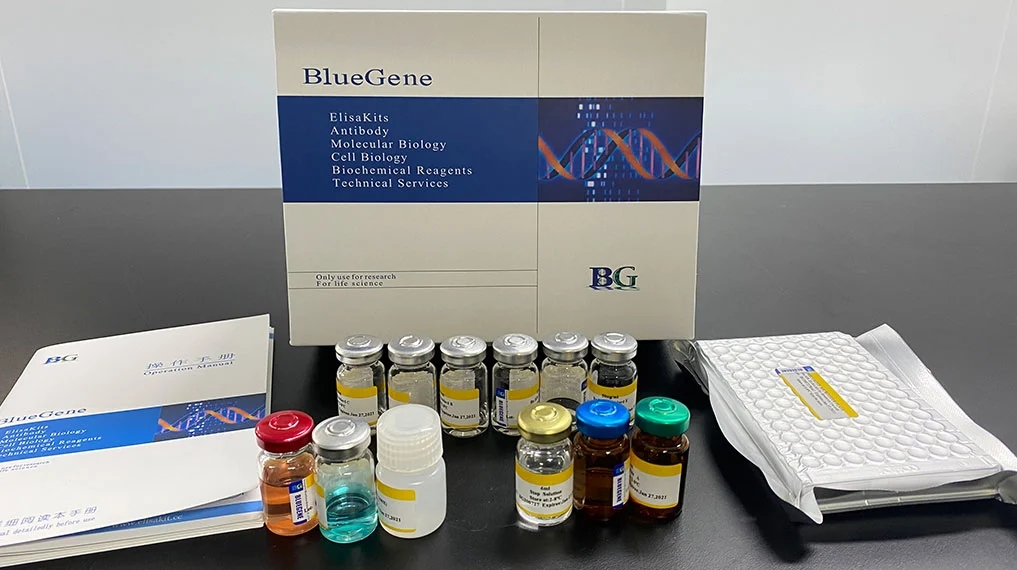 FAQs Of ELISA Kits
Publications Received

How to analyze ELISA data?

Common Problems for BlueGene Biotech ELISA assay

Notes for Washing Steps in ELISA Assay

Sample Preparation Guide

ELISA kits trouble shooting