Specifications Of E12A0083 Chicken AACS ELISA Kit
Porduct's Information

Cat.NO.

E12A0083

Porduct's Name

Chicken Acetoacetyl CoA synthetase ELISA kit

Species

Chicken

Product Size

48 Tests / 96 Tests

Concentration

2.5-50ng/ml

Sensitivity

0.1 ng/mL

Principal

Competitive ELISA

Sample Volume

100 ul

Sample Type

Serum, plasma, cell culture supernatants, body fluid and tissue homogenate

Assay Time

90 minutes

Platform

Microplate Reader

Conjugate

HRP

Detection Method

Colorimetric

Storage

2-8°C
Kit Components

MATERIALS

SPECIFICATION

QUANTITY

MICROTITER PLATE

96 wells

stripwell

ENZYME CONJUGATE

6.0 mL

1 vial

STANDARD A (0.5mL)

0 ng/mL

1 vial

STANDARD B (0.5mL)

2.5 ng/mL

1 vial

STANDARD C (0.5mL)

5.0 ng/mL

1 vial

STANDARD D (0.5mL)

10 ng/mL

1 vial

STANDARD E (0.5mL)

25 ng/mL

1 vial

STANDARD F (0.5mL)

50 ng/mL

1 vial

SUBSTRATE A

6 mL

1 vial

SUBSTRATE B

6 mL

1 vial

STOP SOLUTION

6 mL

1 vial

WASH SOLUTION (100 x)

10 mL

1 vial

BALANCE SOLUTION

3 mL

1 vial
Principle of the Assay
AACS ELISA kit applies the competitive enzyme immunoassay technique utilizing an anti-AACS antibody and an AACS-HRP conjugate. The assay sample and buffer are incubated together with AACS-HRP conjugate in pre-coated plate for one hour. After the incubation period, the wells are decanted and washed five times. The wells are then incubated with a substrate for HRP enzyme. The product of the enzyme-substrate reaction forms a blue colored complex. Finally, a stop solution is added to stop the reaction, which will then turn the solution yellow. The intensity of color is measured spectrophotometrically at 450nm in a microplate reader. The intensity of the color is inversely proportional to the AACS concentration since AACS from samples and AACS-HRP conjugate compete for the anti-AACS antibody binding site. Since the number of sites is limited, as more sites are occupied by AACS from the sample, fewer sites are left to bind AACS-HRP conjugate. A standard curve is plotted relating the intensity of the color (O.D.) to the concentration of standards. The AACS concentration in each sample is interpolated from this standard curve.
Quality Control On Chicken AACS ELISA Kit
CV

Intra Variation% <10%

Inter Variation% <12%

Recovery%

88-116.69

Linearity

Diluent ratio

Range %

1:2

95-117

1:4

91-107

1:8

89 -104

Specificity/

Cross-reactivity

No significant cross-reactivity or interference between AACS and analogues was observed.
BlueGene Biotech Product Show
Summary Of The Assay Procedures For E12A0083 Chicken AACS ELISA Kit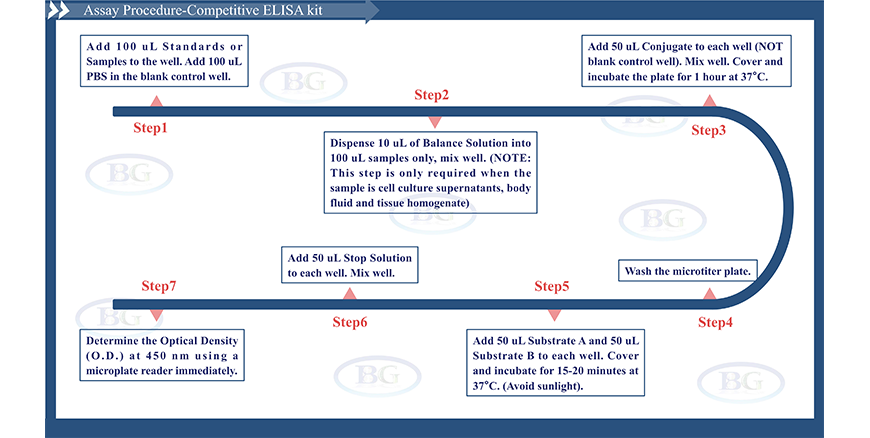 Citations Of Chicken Acetoacetyl CoA synthetase ELISA Kit
Expression profile of adiponectin and adiponectin receptors in high-fat diet feeding chickens
Product: E12A0125 Chicken Total Adiponectin ELISA kit; E12M0038 Chicken MacromoleculeAdiponectin ELISA kit; E12G0012Chicken Glutamine synthetase ELISA kit