Specifications of E01A0049 Human Aβ40 ELISA Kit
Porduct's Information


Cat.NO.

E01A0049

Porduct's Name

Human Amyloid β Protein 40 ELISA kit

Species

Human

Product Size

48 Tests / 96 Tests

Concentration

5.0-100ng/mL

Sensitivity

1.0 ng/mL

Principal

Sandwich ELISA

Sample Volume

50 ul

Sample Type

Serum, plasma, cell culture supernatants, body fluid and tissue homogenate

Assay Time

90 minutes

Platform

Microplate Reader

Conjugate

HRP

Detection Method

Colorimetric

Storage

2-8°C
Kit Components

MATERIALS

SPECIFICATION

QUANTITY

MICROTITER PLATE

96 wells

stripwell

ENZYME CONJUGATE

6.0 mL

1 vial

STANDARD A (0.5mL)

0 ng/mL

1 vial

STANDARD B (0.5mL)

5 ng/mL

1 vial

STANDARD C (0.5mL)

10 ng/mL

1 vial

STANDARD D (0.5mL)

25 ng/mL

1 vial

STANDARD E (0.5mL)

50 ng/mL

1 vial

STANDARD F (0.5mL)

100 ng/mL

1 vial

SUBSTRATE A

6 mL

1 vial

SUBSTRATE B

6 mL

1 vial

STOP SOLUTION

6 mL

1 vial

WASH SOLUTION (100 x)

10 mL

1 vial

BALANCE SOLUTION

3 mL

1 vial
Principle of the Assay
AΒ40 ELISA kit applies the quantitative sandwich enzyme immunoassay technique. The microtiter plate has been pre-coated with a monoclonal antibody specific for AΒ40. Standards or samples are then added to the microtiter plate wells and AΒ40 if present, will bind to the antibody pre-coated wells. In order to quantitatively determine the amount of AΒ40 present in the sample, a standardized preparation of horseradish peroxidase (HRP)-conjugated polyclonal antibody, specific for AΒ40 are added to each well to "sandwich" the AΒ40 immobilized on the plate. The microtiter plate undergoes incubation, and then the wells are thoroughly washed to remove all unbound components. Next, substrate solutions are added to each well. The enzyme (HRP) and substrate are allowed to react over a short incubation period. Only those wells that contain AΒ40 and enzyme-conjugated antibody will exhibit a change in color. The enzyme-substrate reaction is terminated by addition of a sulphuric acid solution and the color change is measured spectrophotometrically at a wavelength of 450 nm. A standard curve is plotted relating the intensity of the color (O.D.) to the concentration of standards. The AΒ40 concentration in each sample is interpolated from this standard curve.
Quality Control On Human AΒ40 ELISA Kit
CV

Intra Variation% <10%

Inter Variation% <12%

Recovery%

92-105

Linearity

Diluent ratio

Range %

1:2

96-105

1:4

903-103

1:8

89-107

Specificity/Cross-reactivity

No significant cross-reactivity or interference between AΒ40 and analogues was observed.
BlueGene Biotech Product Show
Summary of The Assay Procedures For E01A0049 Human AΒ40 ELISA Kit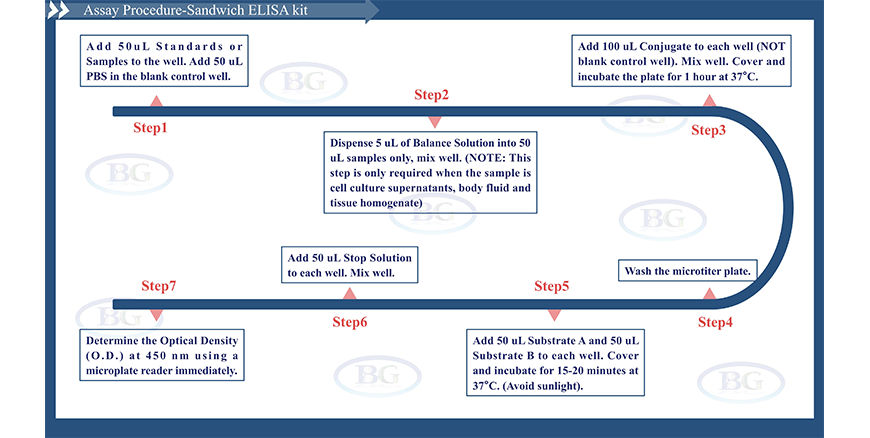 Citations of Human Amyloid β Protein 40 ELISA Kit
Therapeutic effect of probucol on mild cognitive impairment in type 2 diabetic patients
Chronic Noise Exposure Acts Cumulatively to Exacerbate Alzheimer's Disease-Like Amyloid-β Pathology and Neuroinflammation in the Rat Hippocampus
Product:
E01A0050 Human Amyloid β Protein 42 ELISA kit
E01G0039 Human Gamma secretase ELISA kit
E01T0008 Human Tumor Necrosis Factor Alpha ELISA kit
E01R0349 Human Receptor for advanced glycatiom end products/Advanced Glycosylation End Product Specific Receptor ELISA kit
E01P0072 Human Platelet Derived Growth Factor Subunit A ELISA kit
E01B0734 Human β secretase 2(BACE2) ELISA kit; E01A0643 Human Activin A ELISA kit